The mad Norwegians who own the rights to the Sled Dogs design and name re-entered the U.S. market this year. They (or their Hungarian partners, it's all sort of opaque to me) made only a few units available and most sizes sold out quickly. When I pre-ordered a pair months later, it was only order ID 45, suggesting that perhaps only a few dozen pairs of skates had made the initial run.
My skates arrived this week. Perhaps too late for this season, but the lining around the heels of my old SD250s had been worn to nothing and I needed a new pair. The color of the F5s is striking but the overall design is very similar to that of the 250s, and the bases are identical. The new logo is forgettable, but they're cheaply silkscreened onto the boots and will probably wear off in use anyway.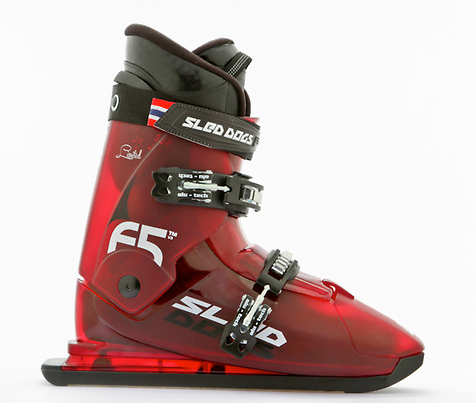 I retrieved my 250s and K9s for comparison; I haven't used the K9s in many years and had forgotten how heavy they were. As I recall them, the K9s were nearly impossible to control, best for when you want to spin down a slope at reckless angles.
A video of the unboxing, below